| | |
| --- | --- |
| The 3ivx Filter Suite is an MPEG-4 filter set to create and play back MP4 files with MPEG-4 Video and MPEG-4 Audio. There are a number of different filters, each performing a different task, working seamlessly together in an MPEG-4 workflow. The 3ivx Filter Suite is the ideal MPEG-4 back-end to use with Multimedia Applications (such as Video Editors, Players, etc.). | |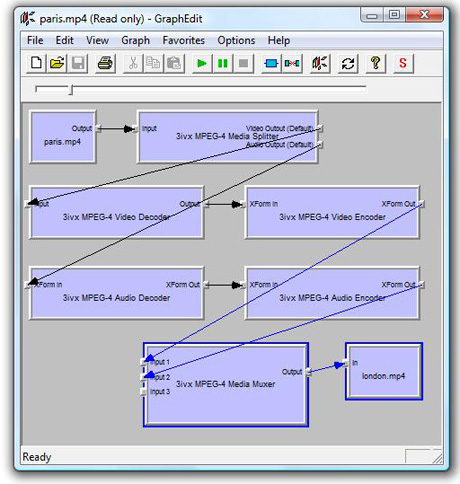 The Filters

3ivx Video Decoder
The Video Decoder decodes MPEG-4 Simple Profile and Advanced Simple Profile video as well as variants such as DivX 3, 4 and 5 and XviD.

3ivx Audio Decoder
The Audio Decoder is compliant with MPEG-4 Audio Version 3, finalized in 2003 with support for Multi-Channel AAC, High Efficiency AAC and others.

3ivx Media Splitter
You can use the Media Splitter to demux or split MP4, M4A (MPEG-4 Audio), MOV (QuickTime) and 3GP files (Mobile Phones).





3ivx Video Encoder
The Video Encoder allows you to encode MPEG-4 Simple or Advanced Simple Profile Compliant Video into an AVI file or, using the 3ivx Filter Suite, into an MP4 or MOV file. It comes as a DirectShow and a Video for Windows codec. The VfW codec supports MPEG-4 Video Decoding in legacy VfW Applications.

3ivx Audio Encoder
The Audio Encoder encodes Low Complexity, Multi-Channel MPEG-4 AAC Audio, and works best when used in combination with the 3ivx Video Encoder and 3ivx Media Muxer.

3ivx Media Muxer
In combination with the 3ivx Video Encoder and 3ivx Audio Encoder filters the Media Muxer generates ISO MPEG-4 compliant MP4 files.

Performance
All filters have been carefully designed to take advantage of the Windows platform. Each filter supports multiple instances and thus allows you to have simultaneous encodings running on one or multiple processors.

The filters have been optimized to take advantage of fast memory buses, fast processors and MMX, SSE and SSE2 resulting in pristine performance on Pentium 4 systems while still achieving good decoding performance on first generation Pentium based machines.



Performance Checklist

| | | | |
| --- | --- | --- | --- |
| | MMX | SSE | SSE2 |
| Intel Pentium | | | |
| Intel Celeron | | | |
| Intel Pentium II | | | |
| Intel Celeron II | | | |
| Intel Pentium III | | | |
| Intel Pentium 4 | | | |
| AMD Athlon XP | | | |
| AMD Athlon 64 | | | |


The filter suite seamlessly integrates with the DirectShow Architecture. The interface has been redesigned to expose advanced options while keeping it easy to use. Our partners and their developers receive access to an API that is flexible and straight forward to integrate.


Interoperability
The filter suite has been compatibility tested with various MPEG-4 implementations. It can play back footage encoded with 3ivx D4, DivX 3, 4 and 5, Apple MPEG-4, Philips MPEG-4, XviD, Sorenson MPEG-4, MPEGSolutions MPEG-4 and others. 3ivx MPEG-4 5.0 video and audio has been interoperability tested with QuickTime 6, Philips Platform4 Player, EnvivioTV and others as well as DVD Players from Neuston and KISS Technologies.

Technologies
Third Party Filters
AAC Parser
Playback AAC Files using this Parser and the 3ivx Audio Decoder, or convert AAC Files into proper MP4 files in combination with the 3ivx Media Muxer.
Filter Configurator
Using Filter Configurator you can configure any Video for Windows (VfW) codec you have in GraphEdit.
Channel Downmixer
Mix down Multi-Channel Audio into 1 or 2 channels. Ideal as a pre-processing filter for the 3ivx Audio Encoder.
Stream Shifter
In case you have an audio or video clip in which audio is not in sync with video, you can use this filter to shift one of the two streams.